SCCN in COP24, Katowice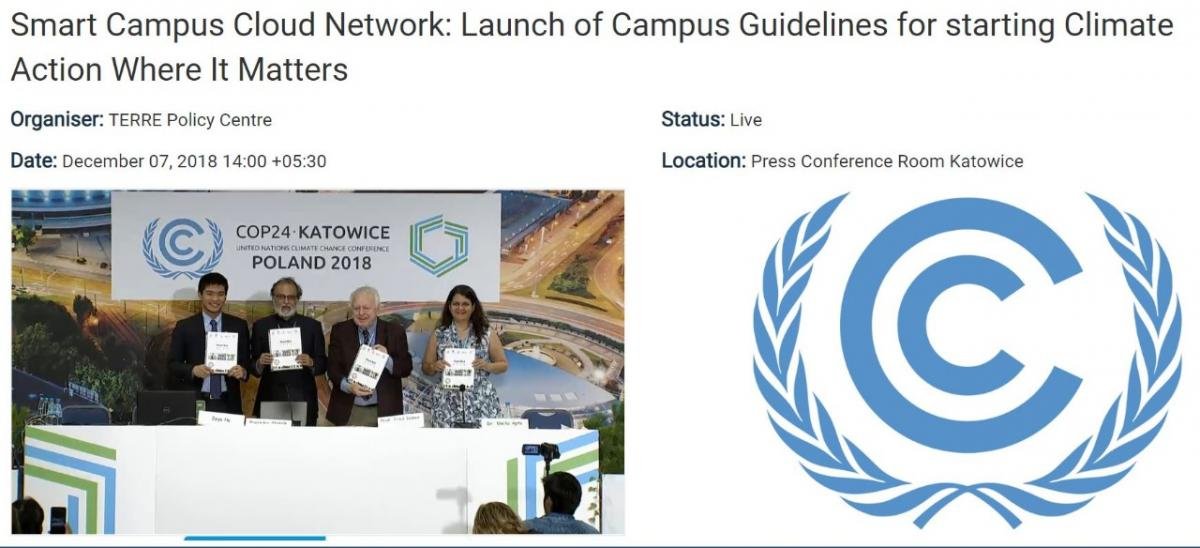 Carbon-Neutral University Campuses:
Youth Begin Climate-Actions where it Matters
7thDec 2018 Katowice, Poland:"The Smart Campus Cloud Network is a bespoke approach to empower and support students and faculty to begin action on climate change urgently", said Prof. Frederick Dubee, Former Senior Advisor, UN Global Compact and UN Secretary General Office.
Prof Dubee was speaking as a chief guest at the Press Conference of TERRE Policy Centre in Katowice during COP24, organized by United Nations Framework Convention on Climate Change (UNFCCC). During the press conference 'Climate Neutral University Campus' was launched along with a tool-kit and water guidelines for Smart Campuses.
"The creativity, ability and the desire of the youth represent a powerful asset for all humanity. Smart Campus Cloud Network (SCCN) of universities, facilitated by TERRE Policy Centre and supported by UNESCO leverages this asset to address the Climate emergency", added Prof. Dubee.
The kit and the guidelines that are meant to initiate the actions in the campus are part of the tool-box for similar actions for clean energy, waste management, sustainable transport, afforestation, etc. The results of the activities in the campus would be shared through cloud network with other universities in the network and linked to Sustainable Development Goals (UN SDGs).
Zeyu Hu, a Student from Cornell University-USA presented his university's sustainability achievements and supported SCCN.
By sharing the successes and challenges through the cloud network, the campuses would generate positive competition. SCCN is, the, enabler for innovations in campus. "Campuses are the right places to trigger the emergency actions laid out by IPCC report of 1.5 deg C," said Mr. Rajendra Shende, Chairman TERRE Policy Centre and Former Director UNEP and added "Campuses would not only make youth 'SDGs-ready' but would also make them climate-resilient".
For more information -
Contact : Dr.Vinita Apte / Dinah Gengmei
Phone : 020 2544 8650 / 8488
Email: This email address is being protected from spambots. You need JavaScript enabled to view it.
This email address is being protected from spambots. You need JavaScript enabled to view it.